More Tea! Program
Enjoy more Wellshire Tea every month with our auto-ship service.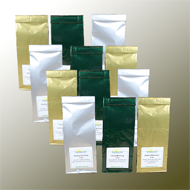 Something to look forward to!
Now you can enjoy Wellshire Tea all year long with a new blend each month through the More Tea! service.
Benefits include:
A different blend is automatically shipped around the beginning of each month
12 blends in all

Janurary - Sapphire River
February - One Cloud
March - Good Morning
April - April Gardens
May - Green Hills
June - Sweet Sunrise
July - Silver Highlands
August - Perfect Evening
September - Gold Mountain
October - Long Road Home
November - Misty Mountains
December - Warming Hut

Your choice of 2oz or 4oz package sizes
Start the service any time of the year
Also a great gift idea!
All prices include shipping
2oz packs x 12 (one per month) - $83.00 plus $2.50 handling
4oz packs x 12 (one per month) - $130.00 plus $2.50 handling
Order today and select the month you want to begin receiving your Wellshire Tea Blends!