Gift Ideas
For any occasion or just because.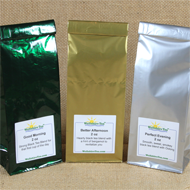 Savings!
Wellshire Tea Trios
Buy any 3 tea blends and receive $3 off. Use the promo code TT3OFF during the checkout process.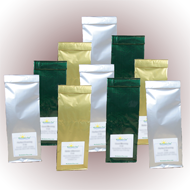 Celebrate!
Nature's Gift Tea Assortment
What better way to celebrate nature than by brewing the leaves it has provided! Sip a mug of some of our favorite blends. Your choice of 2 ounce or 4 ounce packages.
Includes:
Gold Mountain (black tea blend) Sapphire River (black tea blend)
Distant Falls (black tea blend) Silver Highlands (black tea blend)
Foggy Dew (black tea blend) Misty Mountains (black tea blend)
Redcliff Orchard (flavored blend) Sweet Sunrise (flavored blend)
Green Hills (green tea blend) April Gardens (oolong tea blend)
2 ounce 10pk $49.00 4 ounce 10pk $82.00
Add To Basket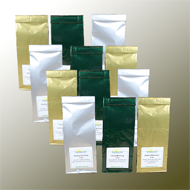 Be Well. Drink Tea.
More Tea! Program
Drink more tea that is. A nice way to give something healthy and remind a special person you care all year long. Includes a different tea blend each month, 12 in all. Choose from 2 ounce packs or 4 ounce packs. One tea blend is shipped automically every month. More details here . . .